Not to beat a dead horse or anything but what
will
Michelle Obama decide to wear tomorrow? And should a first lady be obligated to wear an American designer? President Kennedy supposedly once asked Jacqueline Kennedy to only wear American designers despite the fact the francophile preferred French designers.  Our current (for another 13 hours anyway) first lady, Laura Bush, basically had Oscar de la Renta on call as her own personal stylist. But Mrs. Obama is young and stylish with a preference for Narciso Rodriguez and the fabulous but little known Thakoon.
I'm sure by now you've all seen the sketches that designers submitted to WWD (and presumably to Mrs. Obama's staff) but if you haven't here are my favorites.
Since it seems unlikely that Michelle would choose a foreign designer my favorite look for day (other than a chic Chanel suit) is this sketch by Diane Von Furstenburg.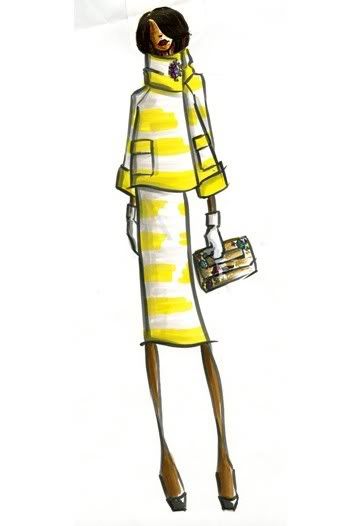 With DVF Michelle gets not only an American designer but also would be supporting a corporation owned and operated by an independent woman. Plus, yellow is such an unexpected color in winter that she'd be sure to impress!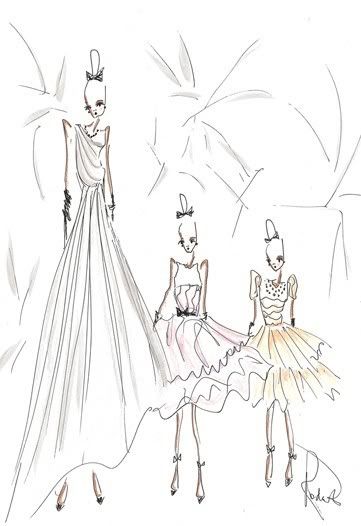 As a Rodarte addict I was super excited to see that the Mulleavy sisters had submitted designs for the inaugural ball gown. While I love the looks (especially for the girls!) its doubtful that Michelle will choose them. While  Michelle favors young designers Rodarte might be a little too avant garde for the American people. 
The most likely (and most classically beautiful) look for evening was submitted by Monique Lhuillier. Boring but beautiful is just what the people want in a first lady. 
What do you think she'll wear? But more importantly what do you
want
her to wear?