There was a lot to love at the controversial Preen show and a lot to try to forget! First, they introduced a line of shoes with this line of Spring/Summer 2010. They came in great colors, and shapes with an array of heel heights and while I haven't seen any price points yet I'm sure they'll be a big commercial hit.
Thea
Bregazzi
and Justin
Thornton
told
Style.Com
that the idea for the collection came from simply wrapping a cord around the body. This influence is clearly seen in a strangely sophisticated form of light bondage throughout the line- but the colors and fabrics kept things soft and dreamy. Still, there was a certain unexpected severity to the feminine that was hard to resist!
Of course some things fell flat- like the metallic nude body-con dress. Is she a sexy space woman?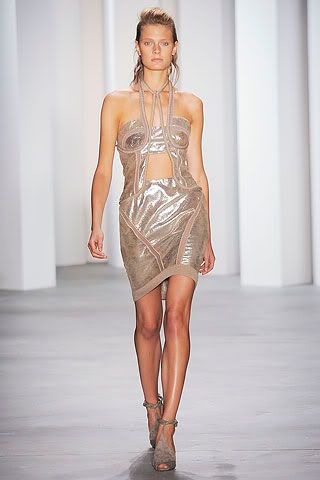 But for the most part the dramatic shoulders, beautiful fits and interesting detailing put Preen high on my favorite list!