German Vogue has a beautiful editorial with the lovely Victoria
Beckham
.
I'm in love with these photographs!
But what do you guys think of her intense eyebrows?!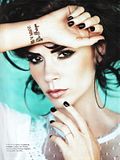 I (shockingly) can't read German so I didn't bother with the interview pages but I'm sure they went something like this...
"I get to sleep with David
Beckham
! I'm a completely normal mom! I love heels so much that I can't even walk in flats! I DO smile just not in paparazzi pictures!"
...because that is how ALL of her interviews go!