I can't decide if the Oil & Water editorial from Vogue
Italia
by Steven
Miesel
is horrible, offensive, and disgusting or a beautiful, artistic way of bringing the utter devastation to the masses...
(Click the thumbnails for a better look)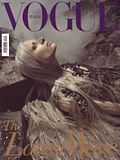 Kristen
McMenamy
is the only girl who could even attempt to pull this off.
This month also marks Kate Moss's
30
th
appearance on the cover
of British Vogue.
My favorite model Jessica
Stam
recently stepped into a designing role at RACHEL Rachel Roy. You can read all about it in this month's Marie Claire (it has MK on the cover!) and check out the collection at
Macys
!
And finally the totally freaky Vogue Paris Collections Fall/Winter 2010 edition that features
Freja
...and only
Freja
! I know everyone loves her but that is definitely an overdose!