The truth? I'm not a hair girl.
Oh, sure, I have my own idea of "perfect" hair- long, straight but bouncy, and blond.
And most of my life since age 12 has been spent in pursuit of this ideal.
But when other girl's were braiding their Barbie's hair I was whacking her head against hard surfaces. I had a bowl cut until I was 12 so the art of hair styling never really took hold.
It doesn't help that my hair is thick, coarse, straight on top but wavy underneath.
In middle school I was teased relentlessly for my "puffy" hair so most of the time it was in a ponytail.
Of course every few months I dutifully get my hair colored and for proms I always had cascades of curls and fresh flowers and chignons but that was always done by professional stylists- on my own I'm useless.
So when John from the family run
Misikko
offered to send me the
Hana Elite ceramic flat iron
I was a little skeptical. But when your best friend calls your hair "a lion's mane" you pretty much take all the help you can get.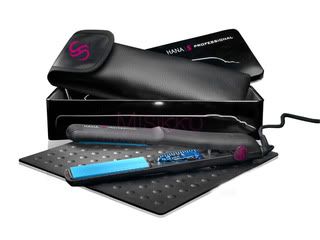 It came beautifully packaged with a sample size of the yummy-smelling
Hana Shine Shield
as well as a rubber iron mat and leather case. I have to admit when I saw it I thought it was going to be too thin for my mane but I was impressed with the many different heat settings. I've had two (cheapie) irons before- one you had to put water in to create the steam that left my hair a tangled wet mess and one ceramic that had two settings: off and the sun. So I was happy to see the many heat settings to choose from!
It heats up fast and has a light so you know the exact moment its ready to go! I separated my hair into four sections and got to work. I was immediately impressed- my straw turned smooth! Now, it took me a long time to do all of my hair but that probably has more to do with my own hair skills than with the Hana. I did each section twice but I probably didn't need to especially if I used a higher temperature setting. I was thrilled with the results.
There was no burning smell, my hair didn't feel heat damaged, and the results lasted for about 36 hours- including partying, humidity, sleeping and a pony tail.
All in all I think the
Hana from Misikko
is worth the money. Misikko actually sells it for 40% off its suggested retail price and you get loads of extras! Since Misikko is a family-run business their customer service is friendly and excellent. They really want to make their customers happy.
I can't thank them enough for giving me the Hana- its changed my hair personality!